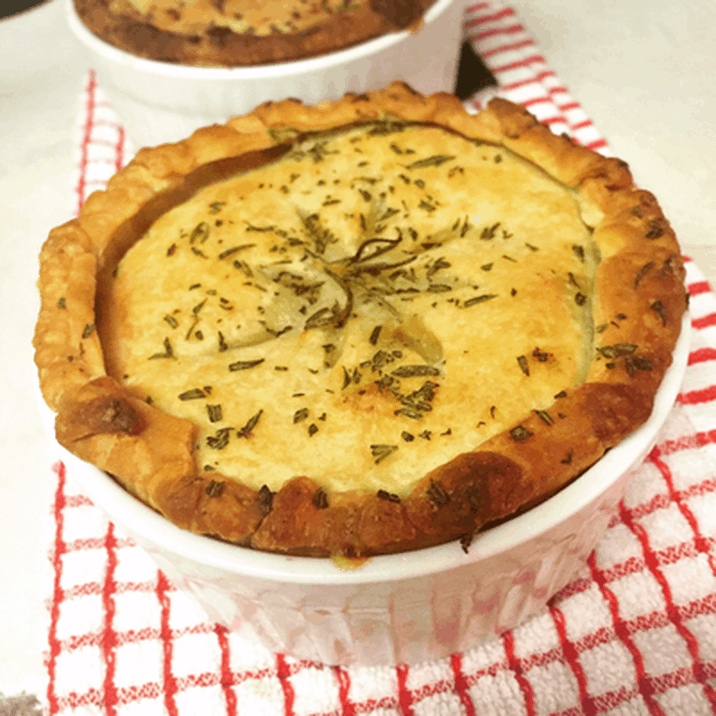 This pot pie is from my cookbook Vegan Cooking for Carnivores by Roberto Martin, I have made many recipes in this book but this is one I had been putting off, due to the fact that it had Gardein patties in it, making it a little less healthy.
This recipe took a few times to get right. Practice makes perfect. The pie crust was a bit challenging because I've never worked with pie crust before, another challenge was that I never had pot pie ever so I didn't know what it tastes like or if I would like it. I usually shy away from any frozen veggie and prefer fresh but this recipe has frozen peas and carrots and tasted perfect. There could be a few modifications to make this recipe a bit healthier but all and all it was pretty tasty and I got no complaints. Roberto's recipes never disappoint.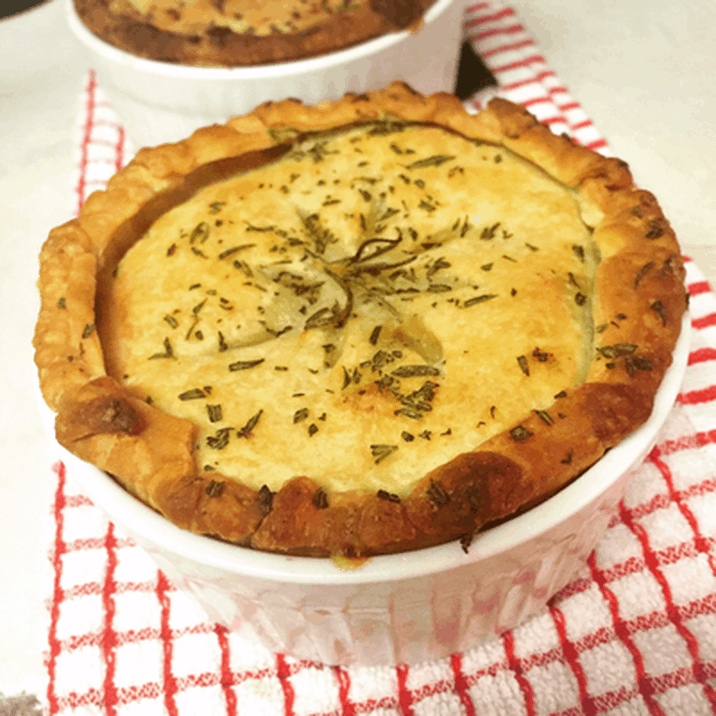 Equipment
Rolling Pin

Ramekins

Stock Pot

Knives

Spatula
Instructions
Preheat the oven to 420ºF.

Heat a large soup pot or small stock pot over high heat, add the oil, and wait until it begins to shimmer..

Add the onion and celery and cook until translucent. Add the garlic and cook 1 minute more. Add the flour and stir it in with a wooden spoon until well incorporated, about 2 minutes. Add the broth a little at a time and stir, scraping down the sides and bottom of the pot to release any bits of flour.

Simmer until the filling has thickened.

Stir in the peas and carrots and the cubed Chick'n Scallopini. Season the filling to taste with salt and pepper.

Set the filling aside to cool slightly.

Set out six entrée-size ceramic ramekins or potpie dishes.

On a lightly floured surface, roll out the pie dough and cut it about ½ inch larger than the ramekins you are using.

Rub the top of the dough with a little melted vegan butter.

Spoon the filling into the ramekins to within ¼ inch from the top.

Cover the ramekins with the pie dough, butter side up, and crimp the edges with your fingers.

Place the ramekins on a baking sheet and bake them for about 20 minutes, or until the crust is golden brown and crisp.

Remove from the oven, allow to cool slightly, and serve.